Meet Our Provider
Barbara H. McCollum, M.D.
Dr. McCollum is a board-certified obstetrician and gynecologist and has been with the Shaw Center for Women's Health since 2009.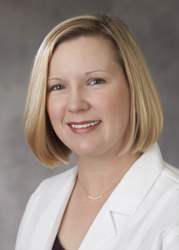 More About Dr. McCollum
She grew up in Columbus, Georgia. Dr. McCollum attended The Georgia Institute of Technology and earned a bachelor of biology degree in molecular genetics in 1998, graduating with high honors.  She earned her medical degree in 2002 from Mercer University School of Medicine.  While there, she received the T.J. Lin Award for Excellency in Obstetrics and Gynecology.  Dr. McCollum completed residency at Medical Center of Central Georgia where she was Administrative Chief Resident.
Dr. McCollum is a member of American Medical Association, Medical Association of Georgia and is a Fellow with American College of Obstetrics and Gynecology. Her hobbies include hiking, traveling, and aerobic exercise, but mostly spending time with her husband, Eric, and two children.
Accepting new patients
Yes, I am accepting new patients
Primary Specialty
Obstetrics & Gynecology, Reproductive medicine, Gynecological Surgery, and Women's health
Honors & Awards
T.J. Lin Award for Excellency in Obstetrics and Gynecology : 2002
Medical Education
Doctor of Medicine: 2002
Mercer University School of Medicine, Macon, GA
Board Certifications
Certified American College of Obstetrics and Gynecology
Residency
Administrative Chief Resident: 2006
Medical Center of Central Georgia, Macon, GA
Affiliations
American Medical Association
Medical Association of Georgia