Meet Our Provider
Robinson H. Stubley, III, M.D.
Dr. Stubley is a board certified obstetrician and gynecologist who has been with Shaw Center for Women's Health, PA since 1997.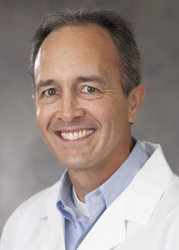 More About Dr. Stubley
Dr. Stubley was raised in Greenville, South Carolina.  He received his bachelor of science degree in biology in 1984 from The Citadel, The Military College of South Carolina in Charleston.  He received his medical degree in 1988 from the University of South Carolina School of Medicine in Columbia.  Dr. Stubley completed a transitional residency in 1989 at Roanoke Memorial Hospital in Roanoke, Virginia.  He also completed an OB/GYN residency in 1995 at Keesler Medical Center, Keesler Air Force Base, Mississippi, where he received the Outstanding Resident Teaching Award for two consecutive years.
Dr. Stubley was a member of the United States Air Force from 1989 to 1997 with a final rank of Major.  During his enlistment, Dr. Stubley was a flight surgeon for the 433rd Tactical Fighter Training Squadron from 1989 to 1991.  He was also the Coordinator for Medical Operations Readiness – NASA Space Shuttle Support.
Dr. Stubley is a Fellow of American College of Obstetricians and Gynecologists.  He is also a member of the Medical Association of Georgia, the American Board of Obstetrics and Gynecology, and the Georgia Obstetrical and Gynecological Society.
During his time off, Dr. Stubley enjoys fishing and spending time with his wife, Meg, his children and grandchildren
Accepting new patients:
Yes, I am accepting new patients
Primary Specialty:
Gynecology, Reproductive Medicine, Gynecological Surgery, Women's Health.
Honors & Awards
Outstanding Resident Teaching Award: 1994-1995
Outstanding Resident Teaching Award: 1993-1994
Medical Education:
Doctor of Medicine: 1988, University of South Carolina School of Medicine, Columbia, South Carolina
Residency:
OB/GYN Resident: 1995Keesler Medical Center, Keesler AFB, MS
Resident: 1989, Roanoke Memorial Hospital, Roanoke, Virginia
Board Certifications:
American College of Obstetricians and Gynecologists
Affiliations
Medical Association of Georgia
American Medical Association
Georgia Obstetrical Gynecological Society